time tracking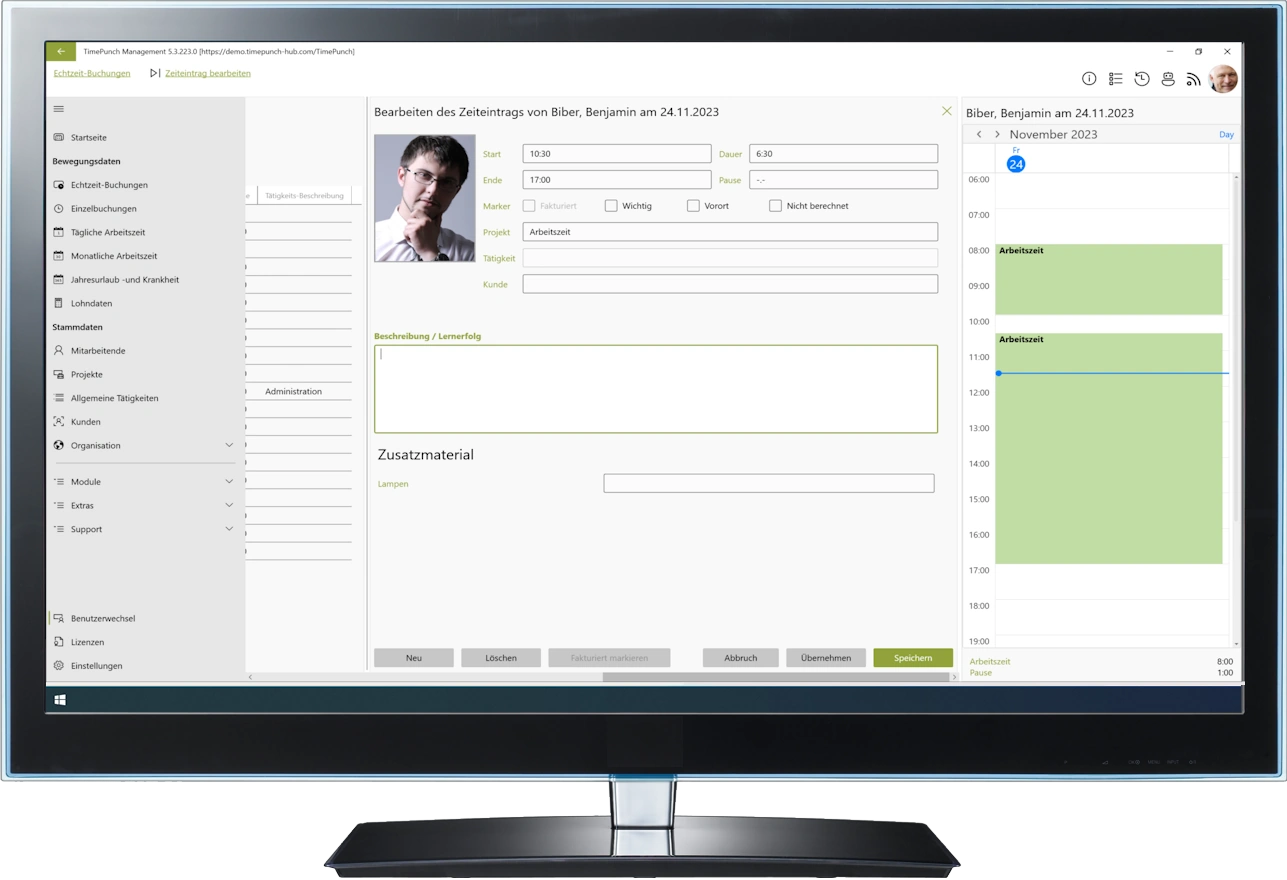 Manual time recording
Key functions
Entering working time
Entering project and order data
Entry of vacation, illness, absences
Maintenance of data also for other employees
Important
Users need a TimePunch Management license
Change rights are controllable via roles and the mapped organizational structure
Manual data entry and correction is essential for the HR office. Incorrect entries can be corrected quickly and absences such as vacation or illness can be added with just a few clicks. Of course, changes are always traceable.
TimePunch allows you to restrict the change rights per user based on the assigned roles and rights, as well as the organizational structure, mapped via teams, departments and branches.
Manual recording of working and project times is also ideal for demanding project work. It allows users to record their own hours manually and assign them to projects and customers. Especially for project work and with trust-based working time, this type of time recording makes sense.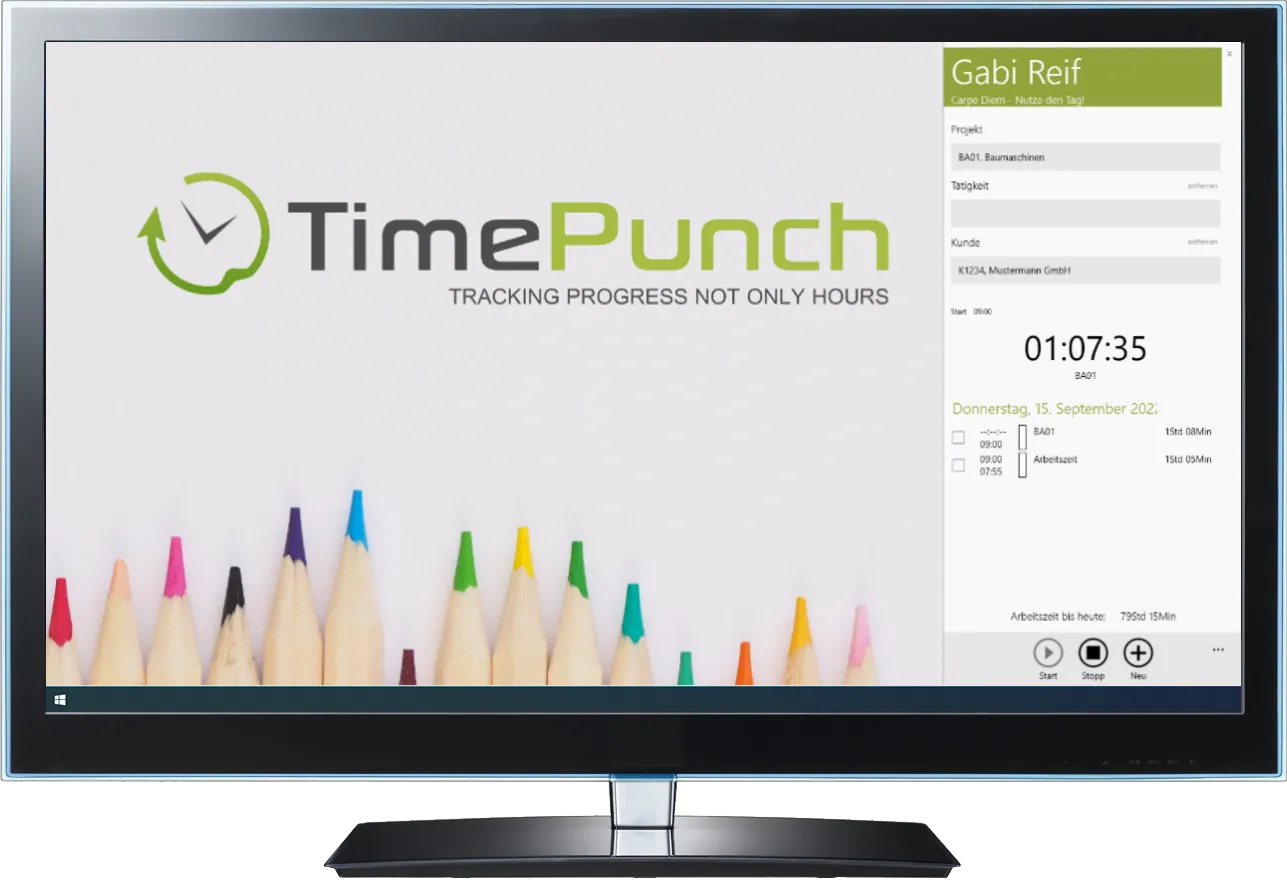 Time recording on your own PC
Key functions
Automated time recording
Recording of working time and project times
Fast change of time recording
Inexpensive alternative to the classic time recording terminal
Important
Users need a TimePunch Watcher license
Change rights are controllable via roles
Automated time recording on the employee's own PC is particularly suitable for employees who work to a large extent on their own workplace PC. No hardware terminals are required for these employees; instead, the working time is logged directly on the PC. It is possible to automatically credit a time bonus per day for the time lost when entering the company premises to the PC.
Time recording on the employee's own PC is also suitable for work in the home office if the employees log on to the PC in the office via Microsoft Terminal Server, Citrix or other virtualization solutions.
Of course, the rights that users have with regard to changes and booking options can also be controlled centrally here.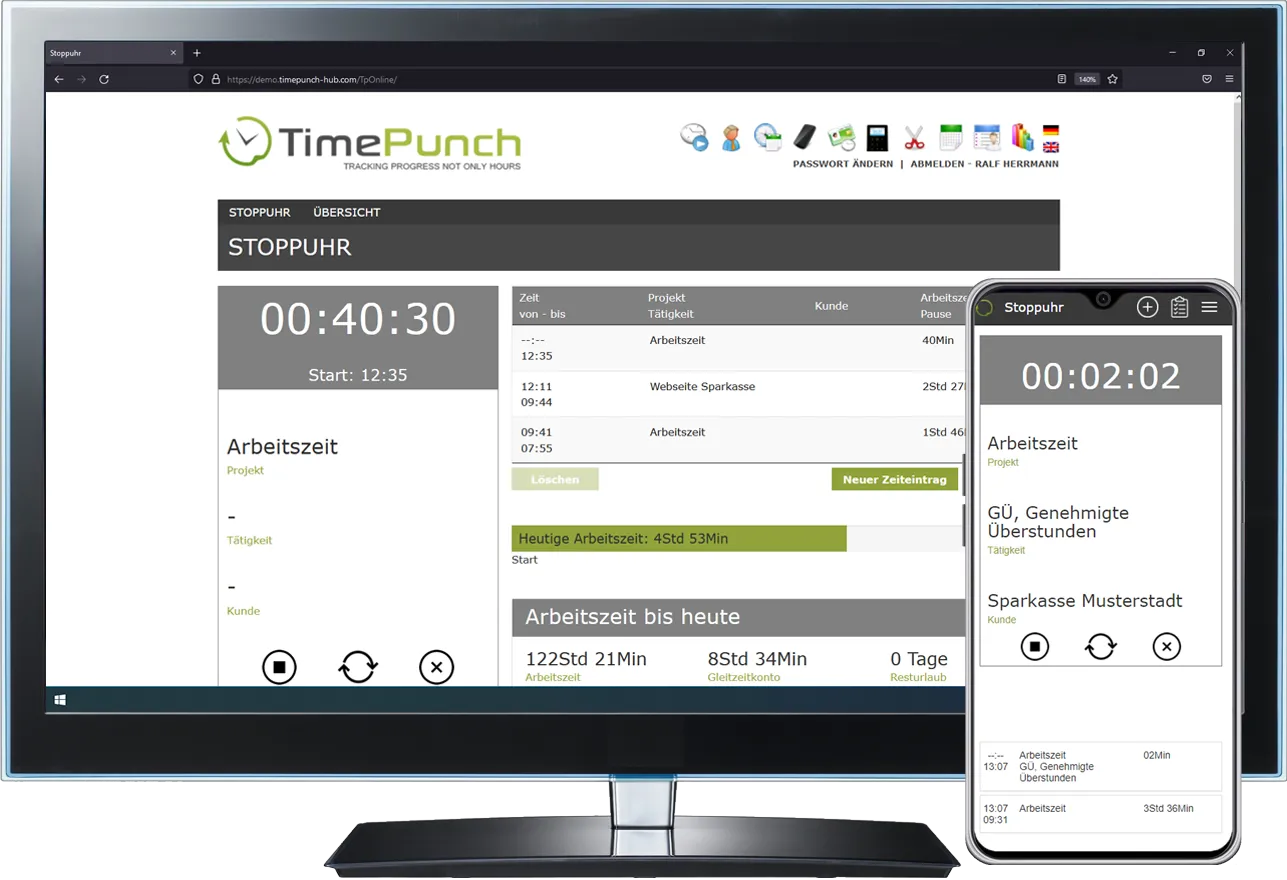 Mobile Time Recording
Key functions
Start/stop function and manual recording
Independent of the terminal device used
Capture of GPS position data
No installation necessary
**Important
Users need a TimePunch Online license
Change rights are controllable via roles
GPS position data can be requested optionally or as mandatory.
Mobile time recording via TimePunch Online is particularly suitable for employees who do not have a fixed workplace, such as field workers and freelancers. They can record working time directly at the customer's site via a browser or smartphone.
Another option is the use of mobile time recording for employees who work partially mobile in the home office and need an alternative to time recording at the classic time recording terminal in the company. The advantage of this is that time recording in the browser must be started separately and therefore does not interfere with recording at the time recording terminal in the company.
The time recording can be done via the start/stop function, or with the appropriate authorization, also by manually entering the working time.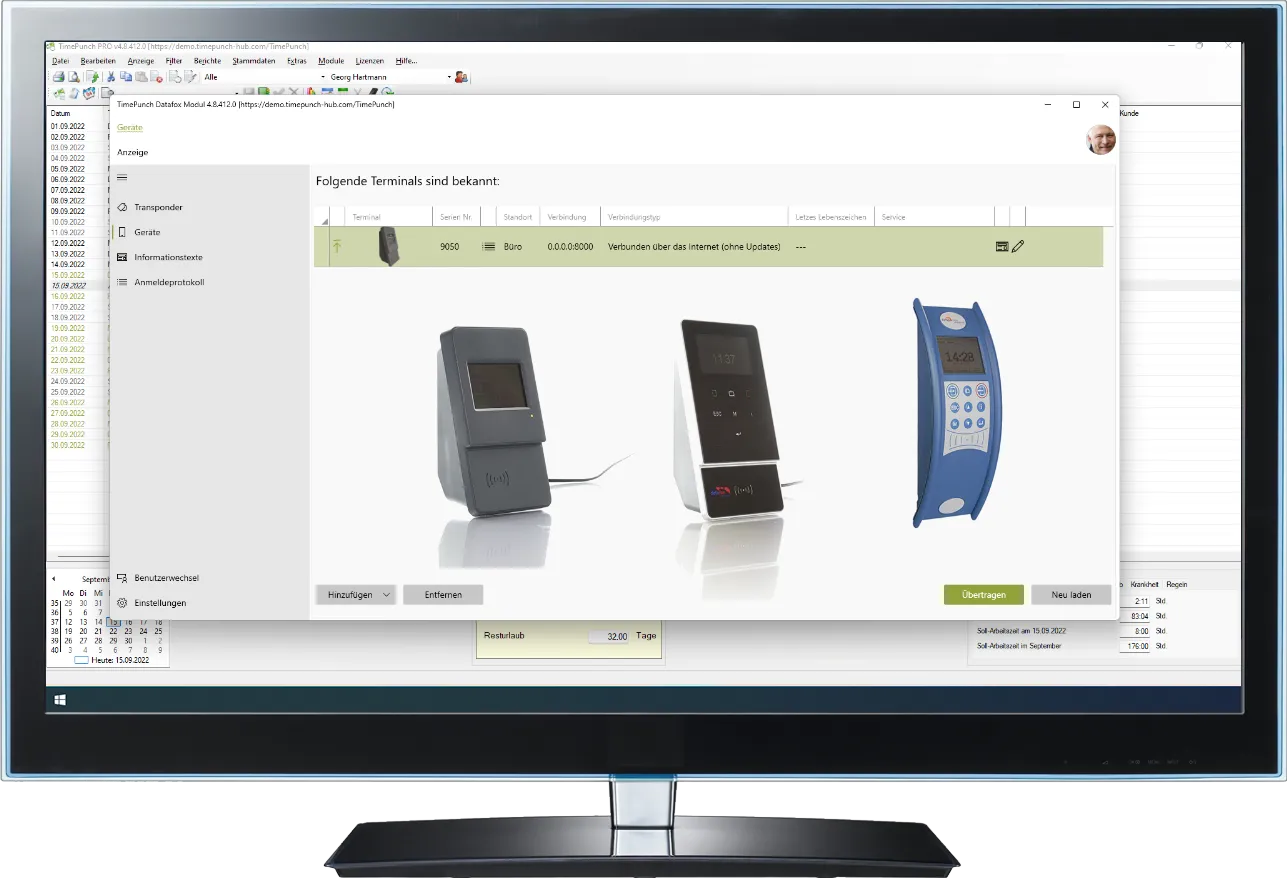 Time recording at the hardware terminal
Key functions
Simplest operation, without entry hurdle
Query of account balances
Optional order booking via control panel or barcode scanner
Tamper-proof due to password protection
Important
Users require a TimePunch Terminal license
Available as office or industrial terminal
Available with LAN, WLAN or mobile modem connection
Time recording on the classic time recording terminal is the simplest way to record the working hours of employees. Employees do not need any previous knowledge. The recording is intuitive and can be learned quickly after a one-time demonstration.
With the Smart-Tag key fobs and cards, booking is also completely contactless. Key fobs or cards only need to be held in front of the time recording device. The booking takes place in an alternating clock-in/clock-out process and is acknowledged with a beep.
Optionally, job bookings can also be made via the control panel or a barcode scanner. This allows working times to be assigned to different cost centers, which can later be used for invoicing or recalculation of an order.
Datafox terminals are available as simple office terminal, representative terminal or robust industrial terminal.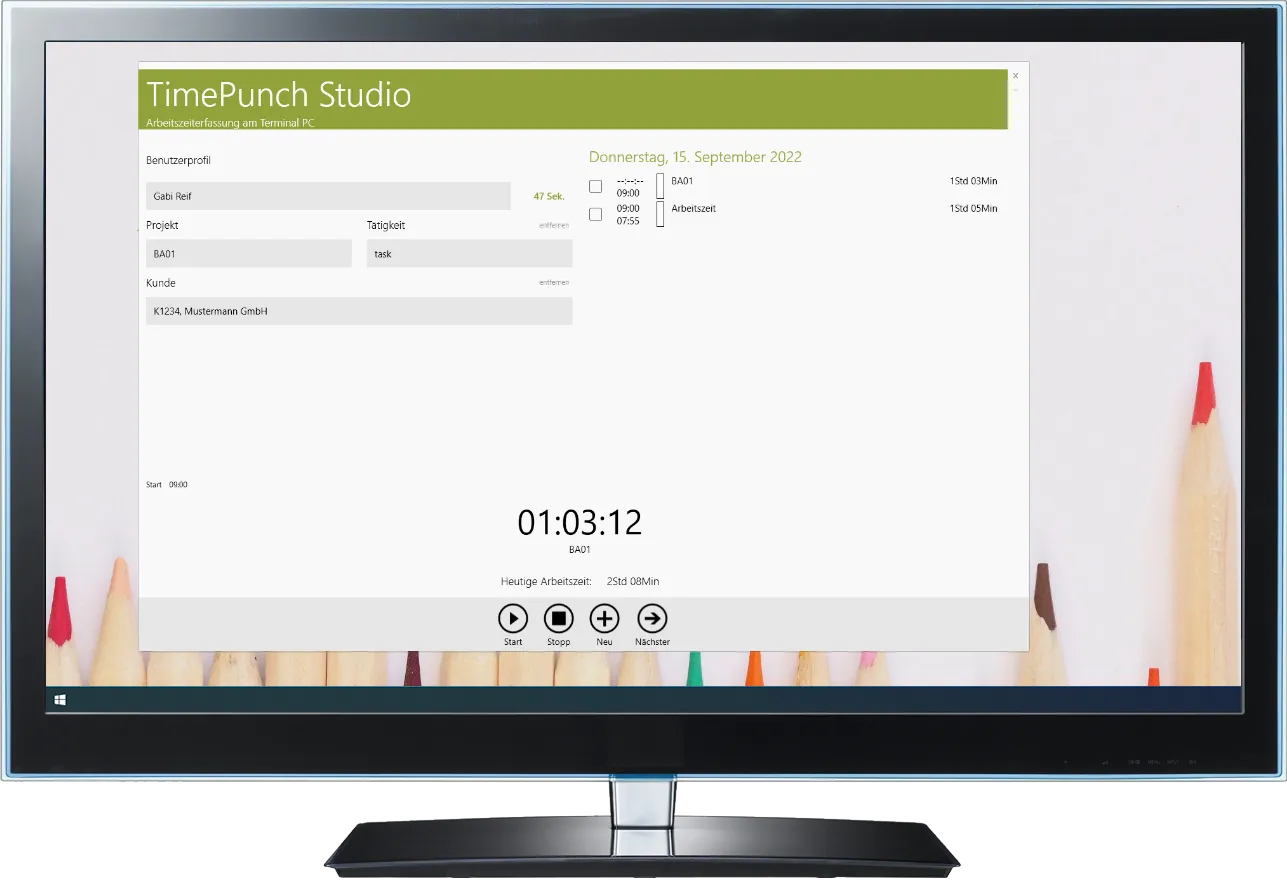 Time recording on multi-user PC
Key functions
Order bookings integrated or via barcode scanner
Quick change of users
Can also be run in kiosk mode
Important
Users need a TimePunch Studio license
Time recording on a multi-user PC is mainly used in the manufacturing industry and in the workshop environment. The advantage is the comfortable selection of orders and the quick change between user and order.
Compared to order booking on the time recording terminal, booking is clearer due to the size of the screen on the tablet or kiosk PC.
In addition, the software can be run in kiosk mode, which prevents misuse of the PC, as time recording cannot be terminated or exited without a system password.
Feature overview
Check out our features
| Manual time recording | |
| --- | --- |
| Entry of working time | TimePunch allows manual entry and correction of working times. |
| Project and order data entry | TimePunch allows manual entry and correction of project and order times. |
| Entering vacation, sickness, absences | TimePunch allows entering and editing vacation, sickness and other absences. |
| Maintaining data for other employees | TimePunch allows users to maintain the data of other employees, provided that the authorization and the mapped organizational structure via teams, department and branch allows it. |
| Time recording on your own PC | |
| --- | --- |
| Automated time recording | The time recording starts automatically after logging on to Windows and stops automatically when logging off or after a longer period of inactivity, e.g. over night. |
| Capture working time and project time | Time capture can be general on working time, or different projects. |
| Fast change of time booking | With a few clicks the current time entry can be changed and thus the time can be booked on another project or job. |
| Favorable alternative to the classic time recording terminal | Due to the fact that no additional hardware is required for time recording on your own PC, it is a favorable alternative to recording with a key fob or card on the classic time recording terminal. |
| Mobile Time Recording | |
| --- | --- |
| Start/Stop function and manual recording | Time recording can be used via the start/stop function of the integrated stopwatch. Likewise, working and project times can be recorded retrospectively. |
| Independent on the device used | Mobile recording with TimePunch Online is an HTML-based web app that can be used in any modern browser. This means that time tracking can be used on Android smartphones and iPhones, as well as on tablets and on a PC with Chrome, Firefox or Edge. |
| Capture of GPS position data | TimePunch allows the capture of the GPS position data of the end device. This can be either optional or mandatory. |
| No installation required | By using time tracking in the browser, no installation of an app or similar is required. The time tracking is opened directly via a link and adapts with the display to the respective end device. |
| Time recording on hardware terminal | |
| --- | --- |
| Easy to use, no barrier to entry | Time recording at the hardware terminal is intuitive and simple. All you have to do is hold the key fob or the time card in front of the terminal. Then a change booking takes place automatically. Coming is displayed in green, going in red. The booking is confirmed by a beep. Incorrect operation is thus almost impossible. |
| Account balance query | Employees can query the flexitime account, remaining vacation, sick days and the current monthly working time directly as a balance in the terminal. |
| Optional order booking via control panel or barcode scanner | If orders are to be booked at the terminal, this can be done via the integrated control panel or an optional barcode scanner. |
| Password protection against tampering | The terminal is password-protected against attempts at tampering. If the connection to the server is disconnected, the terminal records the time bookings and transfers all data as soon as the connection is re-established. |
| Time recording on multi-user PC | |
| --- | --- |
| Order bookings integrated or via barcode scanner | Orders can be started either via a selection in the software or via a connected barcode scanner. |
| Fast changeover of users | After a successful booking, a changeover to the next employee can be carried out quickly. This means that there are no long waiting times due to the need to change users. |
| Time tracking can also be used in kiosk mode | Time tracking can also be used in kiosk mode. This means that employees cannot close or exit the application without a password. |