Personnel time recording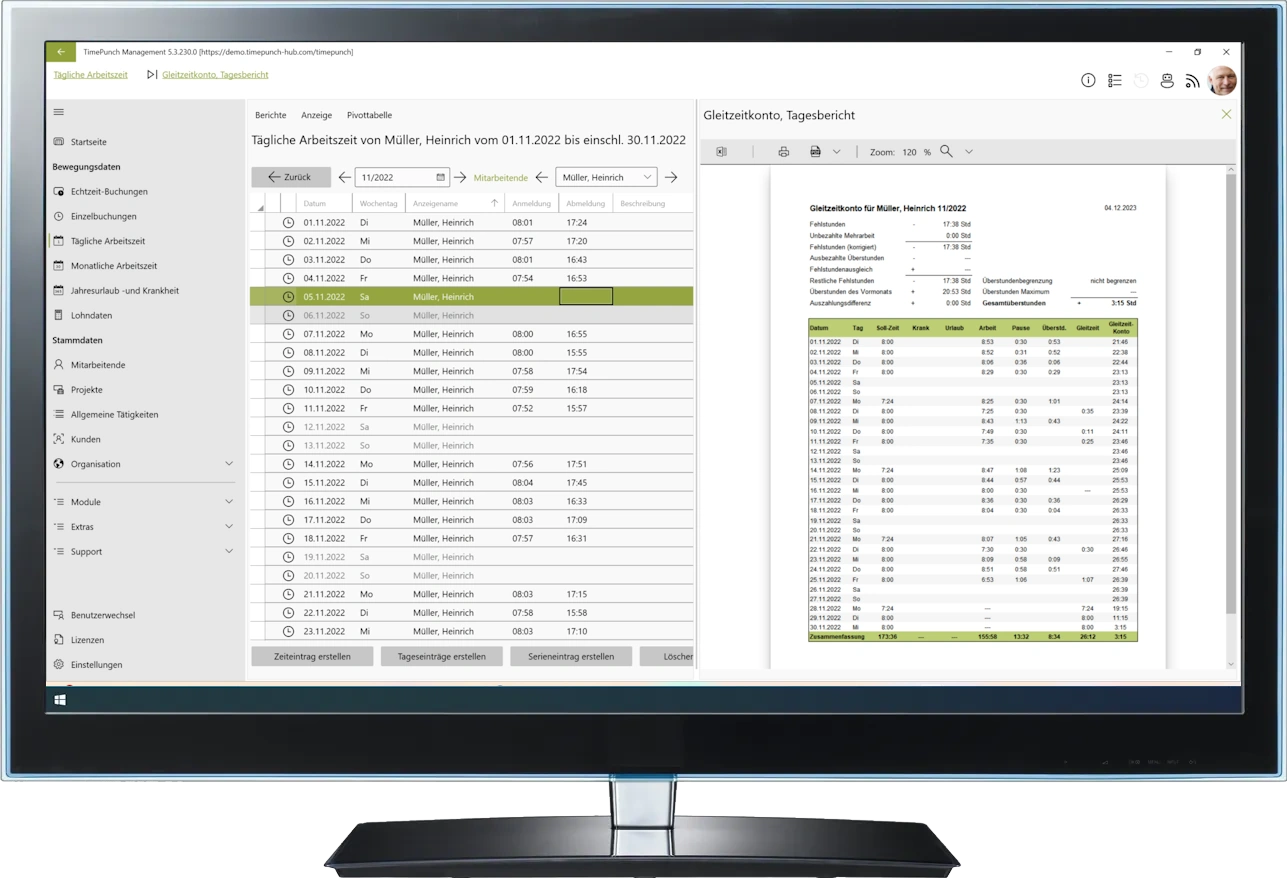 Working time, flexitime account, vacation, sickness and public holidays.
Key functions
Recording of working hours, incl. overnight entries
Keeping of flexitime accounts
Automatic calculation of overtime
Vacation, remaining vacation and special leave
Sickness with and without continued pay
Holiday calculation with all federal states
TimePunch covers all functions of modern personnel time recording. This includes the recording of pure clock-in and clock-out time, including the possibility to book overnight entries, as well as the management of flexitime accounts with automatic calculation of overtime and absences.
In this way, target working time models can be stored for employees, from which the overtime balance is then automatically calculated. Of course, overtime can also be used to compensate for time off in lieu or to pay out to employees.
Also integrated is vacation management, including vacation carryover to the next year and direct display of remaining vacation for employees at the terminal or in the PC software. This also includes the possibility to manage special leaves or sabbaticals.
Sick days of employees can be stored and managed in TimePunch. This also applies to a possible Corona quarantine. For the wage data export, a distinction can be made between illness with continued payment by the employer and without continued payment for illness lasting more than 6 weeks.
Public holidays are already stored per state for Germany, Switzerland and Austria and do not have to be updated manually. Floating holidays are calculated automatically by the time recording.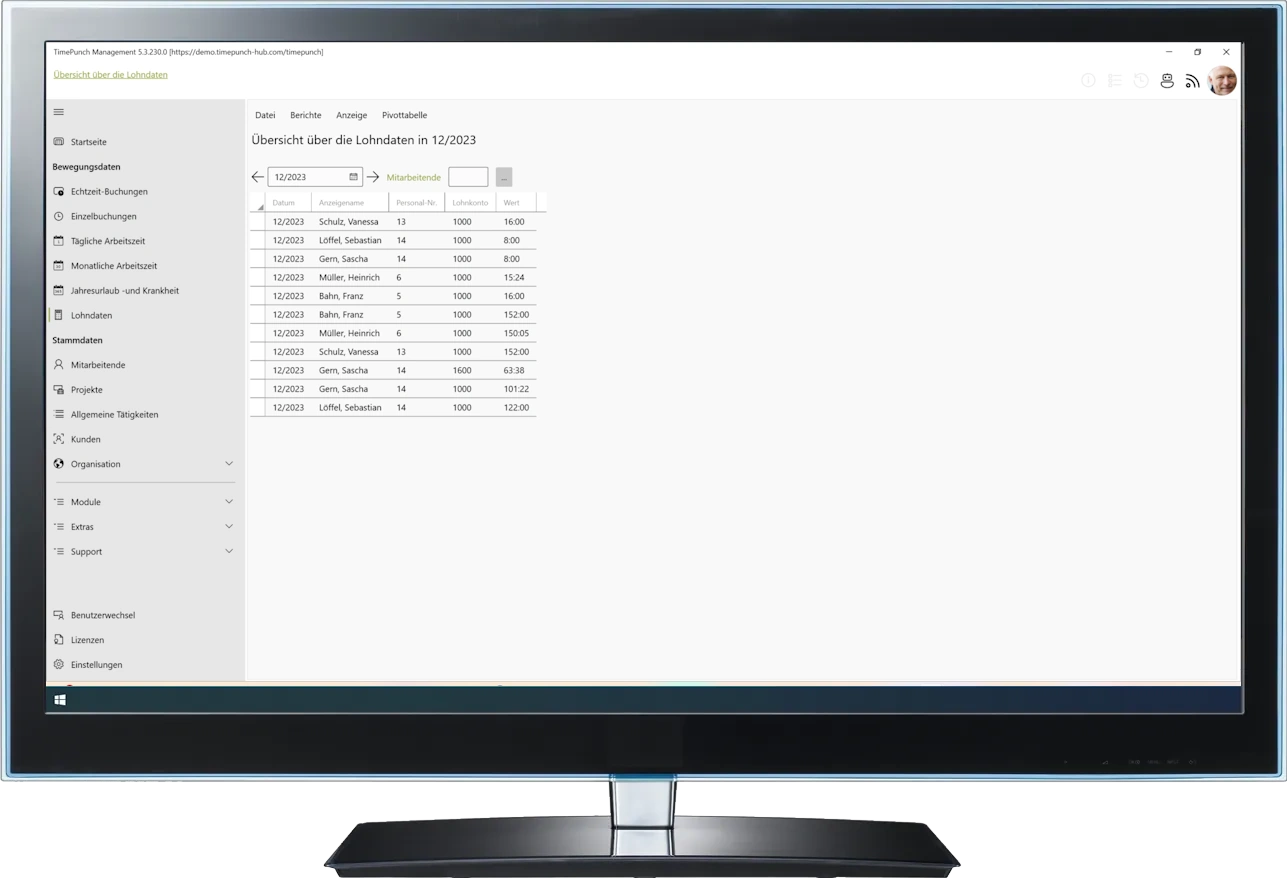 Wage and salary data export
Key functions
Wage and salary data export
Differentiation between wage and salary earners
Export of lost times
Export of bonus relevant times
Important
Clerks need a TimePunch Management license
Using the integrated wage and salary data export, the recorded working times can be transferred directly to the wage and salary program used. For this purpose, the wage data is saved from TimePunch in the respective target format in an export file.
TimePunch offers integrated export options to DATEV Lodas, DATEV Lohn und Gehalt, Lexware Lohn und Gehalt, SBS Lohn Plus and GFP-Impuls.
In addition to working hours, lost time such as sickness, vacation and holidays can also be transferred with the target time or the average calculation after 13 weeks or 6 months.
Night, weekend, holiday and overtime surcharges are taken into account. Of course also with prioritization possibilities.
If a payroll program other than the already integrated systems is used, the export can be adapted with manageable development effort.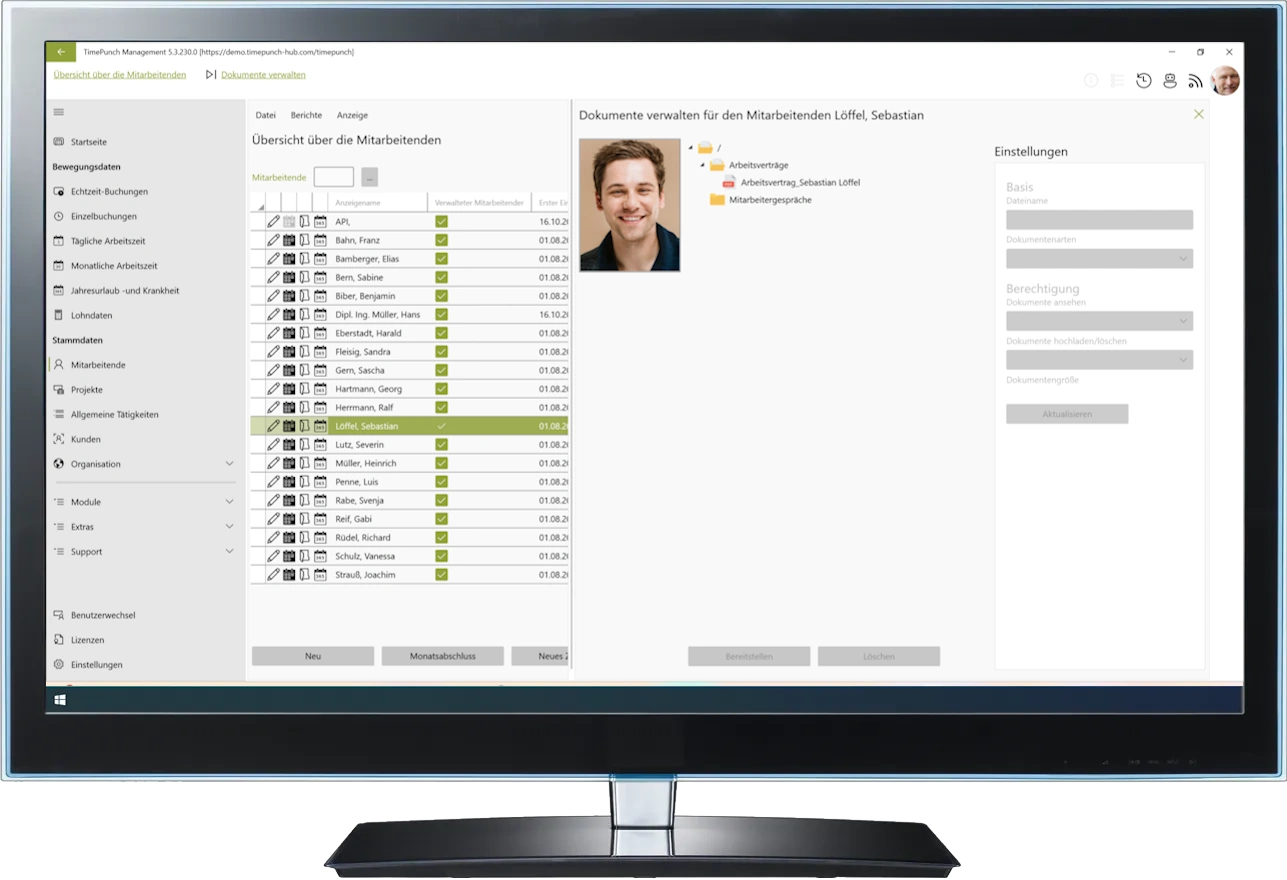 Digital Personnel File
Key functions
Employee master data
document storage
Employee self-disclosure
Time-controlled dismissal and hiring
Important
Users need a digital license to use the digital personnel file, including the self-disclosure.
TimePunch has a digital personnel file for each employee. This means that all employee-related master data can be stored in TimePunch. This includes general data, such as email address and team or department affiliation, but also personal data, such as postal address, salary information or account data. Everything centrally at one point - in TimePunch.
TimePunch can also be used as a document repository. For example, employment contracts, employee interviews or salary statements can be stored in TimePunch and made centrally accessible to employees. Within the document repository, access rights can be assigned to specific folders or documents. This prevents employees from viewing documents that are not intended for them.
The viewing of documents for employees is done via the self-disclosure module. There, employees can access the documents that have been released for them. If a new document is uploaded that can be viewed by employees, then an e-mail is automatically sent to the person concerned with the information that new documents are available.
Not to be forgotten are the time-controlled dismissals and settings. The date of termination or the date of hiring can be stored for employees in advance. If this date is exceeded, the employee's access rights are withdrawn or, in the case of a hiring, also given. This avoids surprises at the start or end of an employment relationship.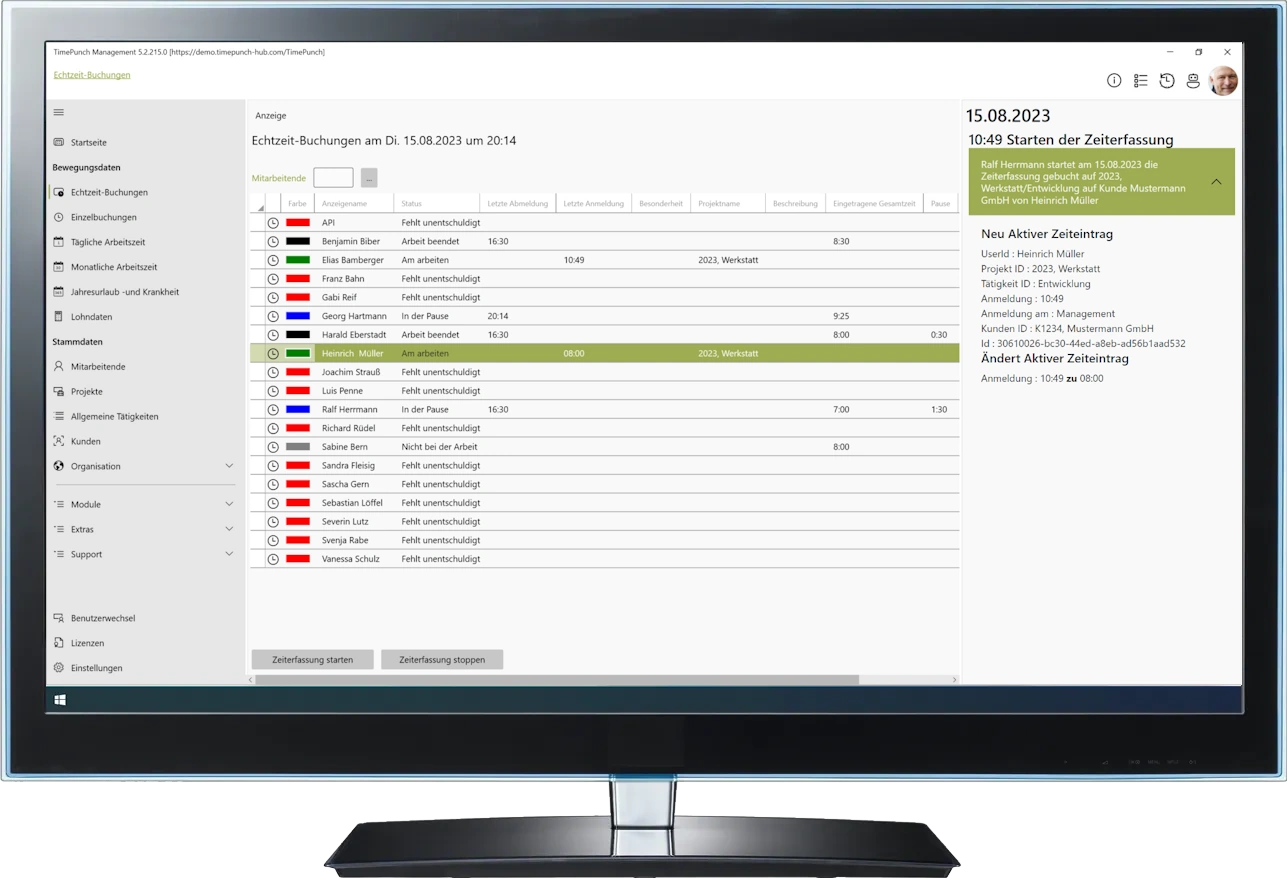 Logging and audit
Key functions
Core time violations
Adjustments of time entries
Month-end closings
Violation of core times
Erroneous bookings
Transparency is always important, especially in a time tracking system. Therefore, many processes are logged in TimePunch and sent to different responsibilities on request.
In TimePunch, it is also possible to store core times per working time model. If employees are late or forget to book, the employees themselves or their supervisors can be informed.
The same applies when adjusting or changing time entries. Here, too, the employees themselves (if the change was made by the personnel office) or their superiors (if the employees themselves have the right to make changes) can be informed by e-mail.
This also applies to month-end closings or incorrect postings, which can occur if employees forget to stamp or stamp twice, for example. Here, too, the personnel office is automatically informed.
Last but not least, this also applies to violations of the framework time model. If, for example, employees do not clock in for their break or come to work too early, these points are logged and reported to the appropriate stored office.
Feature overview
Check out our features
| Working time, flexitime account, vacation, sick leave and public holidays | |
| --- | --- |
| Recording of working hours | Posting of coming/going, as well as breaks and off-duty work |
| Maintenance of flextime accounts | Maintenance of flextime accounts, with the possibility of accruing overtime or having it paid off |
| Calculation of overtime | Automatic calculation of overtime, also for employees in the low-wage sector, part-time contracts and wage earners |
| Leave, remaining leave and special leave | Manage leave accounts, with leave overday and automatic leave expiry, as well as remaining leave and special leave. |
| Sickness with and without continued pay | Possibility to enter sickness with and without continued pay, as well as Corona Quarantine. |
| Holiday calculation with all federal states | Automatic consideration of specific holidays in the DACH area per country and federal state. |
| Individual holidays | In TimePunch it is also possible to store individual holidays (e.g. carnival or a half day of New Year's Eve). |
| Wage and salary data export | |
| --- | --- |
| Wage and salary data export | Export to DATEV Lodas, DATEV Lohn und Gehalt, Lexware Lohn und Gehalt, SBS Lohn Plus and GFP-Impuls |
| Differentiation of wage and salary recipients | Export of compensated working time for wage recipients, export of gross wage for salary recipients |
| Export of lost time | Export of lost time, optionally with average calculation after 13 weeks or 6 months |
| Export of bonus-relevant times | Export of bonuses, such as night bonus, weekend bonus, holiday bonus and overtime bonus per day and/or month |
| Digital Personnel File | |
| --- | --- |
| Employee master data | In the employee master data, all important information about employees can be stored. |
| Document repository | The document repository makes it possible to store employment contracts, employee interviews or salary statements centrally and securely for employees. |
| Employee self-disclosure | The self-disclosure enables employees to access their own personnel file digitally via the browser. |
| Time-controlled dismissal and hiring | The time-controlled dismissal and hiring of employees serves as a central control option to achieve better planning and control over employees. |
| Logging and Audit | |
| --- | --- |
| Core time violations | Reporting when core working hours, i.e. the latest possible start and earliest possible end of work, are not adhered to. |
| Adjustment of time entries | Reporting when time entries are changed by employees themselves (with appropriate change rights) or by the supervisor or in the personnel office. |
| Monthly closings | Message when monthly closings are performed. |
| Violation of time limits | Report when employees arrive at work too early or break times are not observed. |
| Missing bookings | Reporting when employees forget to log off or make double bookings. |